International Volunteer Managers Day is November 5th!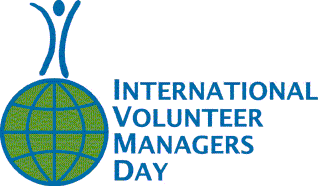 2011 has been a busy year for volunteering – it is IYV2011+10 and the European Year of Volunteering 2011, to name just two high profile campaigns.  And now once again we've come to International Volunteer Managers Day (IVMD) – 5 November – which has been building its own momentum.  Andy Fryar, chair of the steering committee for IVMD, reports:
 Already I am hearing of plans for events to mark the day and discussions online about how the publicity for the day can be used to help promote the importance of effective leadership and management of volunteers.  It is in this context that we (the steering committee) see 2011 as a year of consolidation for International Volunteer Managers Day. We have no major developments planned for 2011. Rather we want to concentrate on promoting what is already happening to mark the day and sharing that to keep the profile high.
You can participate by doing some concrete things:
Follow the day on Twitter and promote your plans by mentioning @IVMday in your tweets.
Get in touch with the organizers to share what you've got planned (or did) so they can promote it on the IVMD website.
"Like" the IVMD page on Facebook and post your plans or good wishes to colleagues there, too.
Rob Jackson Consulting, Ltd. has posted a "countdown clock" to IVMD, which is fun. 
Where to next?
The committee is already looking at how the Day can grow in 2012 and beyond. Andy says:
Key to this will be the recruitment of new steering committee members. Our existing members have made an amazing contribution in recent years but many are looking to move on and we think now is the right time for some new blood to join the committee and take International Volunteer Managers Day forward into the future.
If membership of the steering committee for International Volunteer Managers Day is something you'd be interested in getting involved in we'd love to hear from you. Please send us an email outlining a bit of information about you, what you like about the Day and what one change or development you'd like to implement to take it to new heights.
This might be your chance to burst onto the international scene! 
Here hoping every one of you has a great International Volunteer Managers Day 2011.